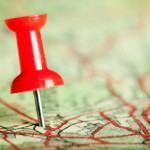 A buddy of mine loves to ride mountain bikes. His Bible Impact Group partner is also into mountain biking. One day they were discussing who they should be praying for on their BIG cards. His BIG partner was saying he could never get on a street corner with a sign proclaiming God's love. Yet you should see him when he's riding his bike. He is always talking up Jesus to those he rides with – no matter who they are and matter where they are!
My buddy pointed out that he was doing just what Jesus wanted him to do. There are people just like him who love to ride mountain bikes. Where will they be? Riding their bikes on the various trails in the hills around his house. Who can reach them with the love of Jesus? My buddy and his BIG partner.
I love what a friend of mine, Dezi Baker, likes to say. "It doesn't matter where you are; but who you are where you are." If you're living with your biblically-based truth filter switched on, the Spirit will be molding you into the image of Jesus. Being with and like Jesus wherever you are will give you plenty of opportunities to share His love with those around you – whether it's on a street corner or in the mountains.