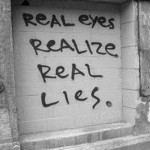 Here's a little test. For it to work you can't scan this entire entry. Only go line by line. No cheating! (lol) Count every "F" in the following text:
FINISHED FILES ARE THE RESULT OF YEARS OF SCIENTIFIC STUDY COMBINED WITH THE EXPERIENCE OF YEARS….
How many "F"s? Count them again.
There are 6. Read it again. Go back and try to find the 6 'F's before you finish reading this entry. The reasoning behind this is further down.
FINISHED FILES ARE THE RESULT OF YEARS OF SCIENTIFIC STUDY COMBINED WITH THE EXPERIENCE OF YEARS….The brain cannot process "OF".
Whether this was scientific or actually true or not is not the point. I "saw" only 3. I knew to read it carefully too. I "read" it four times before proceeding and I still missed the "of"s. I saw them, but I didn't see them.
It's the same with our walks with Jesus. We "think" we are "seeing" something that will help us get and stay closer to Jesus. But what we're actually "thinking" and "seeing" is taking us away from Him and towards our drugs of choice as our brains and eyes can be playing tricks on us. We need another three sets of eyes to help us on our journey become more like Jesus – the Word of God, the Spirit of God and the people of God.
We need all three, not just two or one as seeing is not always believing.
S"E"t Free Now"WW"