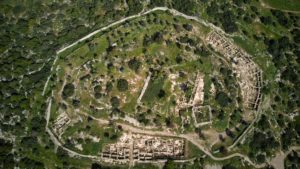 The fight is already won, if only we'd fight.
This picture was taken from a drone high above the site where King Saul made his encampment across from the Philistines at the Elah Valley (1 Samuel 17:1-3). It's on a hilltop overlooking the valley. I know. I climbed it!
It was here that young David came with supplies for his brothers. It was here that David heard Goliath make his outlandish challenge. And it was from here that David said he'd take that challenge in the name of his God, the God of Abraham, Isaac and Jacob.
I feel led to share two things from this story. First, David didn't take up the fight in his own strength. And second, he ran toward the battle, toward the giant.
Saul's men, including David's older brothers, stayed behind these walls shaking in fear; a fear that came because they knew they couldn't defeat this giant, let alone face him in own open combat.
Our enemy taunts us to fight him, knowing full well we won't, which only increases are defeatist mindset.
The only way to defeat our Goliaths is to face them head on with the powerful truths Jesus has given us in His word. One of which is that the fight is already won by Jesus! We are, not will be or were, more than conquerors through Jesus.
Face your enemy. Run toward him in Jesus' name. And slay him through the power Jesus has given you – His truth and His Spirit.