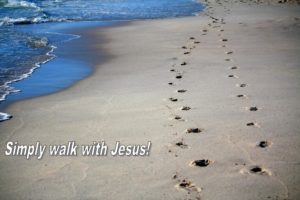 The only way to be where Jesus wants you to be tomorrow, is to be with Him where you are today.
Funny how things work out.
I went to speak at a conference to encourage other Jesus followers to walk into their calling; and lo and behold, God spoke to speak to me.
A brother was sharing how he'd been going through quite a few life changes over the past couple of years. Each time, this brought much anxiety with it.
And yet, as he stayed in "alignment with Jesus" (his words), God always brought the right person or right situation to ease him into the next phase of where God wanted him to be.
He got to the next phase of his life by being in and with Jesus in the current one.
Jesus "ended" up on the cross and walked out of that tomb, which was the Father's ultimate plan for His life, because Jesus was in constant connection with His Father with each step He took.
Be encouraged! God will get you right where He wants you to be. So, take off the load of tomorrow's anxiety by being aligned with Jesus today.