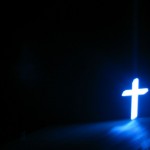 In continuing this week's theme of calling people to come to Jesus, I want to share a story I heard a few months back. A gentleman by the name of "Art", who lives out the truth of doing what he loves to do with those who don't know Jesus, was telling the story. Among other things, Art loves to hike and ride mountain bikes and is always arranging trips to do these activities with others.
On one particular trip, there was a guy who was constantly trying to get Art to cuss. This guy was throwing out one bomb after another in hopes that Art would toss them back. Art never went down that trail. He said, "I couldn't judge this guy because without Jesus, I'm just like him."
For some reason, believers get in the habit of expecting prebelievers to act like Jesus. Folks, they can't! They don't know Jesus. And because they haven't been radically changed by Jesus, why do we expect them to act like Jesus? They're acting just like we did before we came to Jesus. So, let's be Jesus around them so they can see Jesus in us and hopefully come to Jesus through us.
This will take being secure in who we are in Christ, a child of God. This is the foundation of living with a Biblical worldview. As we know who we are, we can be comfortable in our own skin. This means we don't have to fit in for we are already do – into Jesus! As we get grounded in this truth, let's "live as though Christ died yesterday, rose from the grave today, and is coming back tomorrow." Those without Christ need to be around those like you.
"S"et Free Nowww