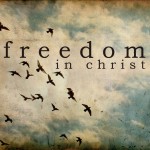 Chaim Weizmann, who knew something about independence as the first president of Israel said, "Independence is never given to a people, it has to be earned; and, once earned, must be defended."
Another famous Jewish man wrote, "It is for freedom that Christ has set us free. Stand firm, then, and do not let yourselves be burdened again by a yoke of slavery." True independence, freedom from our drugs of choice, is given by Jesus, who earned it through His victorious life, death and resurrection. This is the first part of Galatians 5:1. We can't earn our independence as it is already given to us.
We can, however, go back to slavery! We must defend ourselves by using our shield of faith in the truths found in the Word of God from going backward. Each day's small choices can keep us free or lead us back to slavery. Today, the 4th of July (to my American readers), continue to trust and walk with your true Freedom Fighter (hint: it's not the government or yourself) to stay free!
"S"et Free Nowww