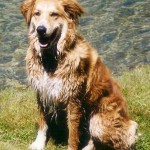 I was out walking with my dog Lucky tonight at 8 PM, which was extraordinary in and of itself. Lucky is almost 13 years-old; yet he still thinks he's a pup. He's at the gate raring to go every time I head out for a walk. Though I'd love to take him with me every time, I just can't. I can't take him walking during the day because it's too hot. I can't take each day I head out because his hip wants to come out of joint. I can't take him on long walks because he gets that look in his eyes, "Are we going home yet?" Though he wants to think he can do it, he just isn't able to anymore. It's up to me, as his owner, to take care of him.
This is what it means to be a child of God. We have a Father who acts just like I do with Lucky. He knows what we can and can't handle. He knows the daily conditions we'll face and how to navigate us through those conditions. He wants us to experience victory each day. The condition of victory is to listen to Him and do what He says throughout our day (i.e. a Biblical worldview); even when we think we can handle the situation ourselves or what He's telling us to do doesn't make sense.
I've had to return early from walks because Lucky simply thought he could handle more than he could. I should have known better than to let him trick me (jumping up and down like a puppy) into taking him with me. Our Father never makes that mistake. The question is two-fold. One, will we filter our life through Him? Two, will we do what He says to do? Our Father does know best. It's time to listen to this Dad.
"S"et Free Nowww