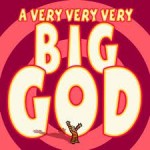 Life. We all have situations we face every time we walk into and out of our homes; yet many only exist not live each day. Jesus didn't come to give us an existence, but real life today (John 10:10). He's the One who asks us to taste and see that He is good (Ps. 34:8).
The question is, "Is your God worth experiencing?" Abraham had a leave your comfort zone and follow Me life adventure God. Sarah had an overcome barrenness to give life God. Rahab had a stand up against her countryman and save her life God. David had a giant killing experience for himself God. The bigger your God is, the greater your trust in Him can be to give your life sweetness.
Is your God limited to your imagination or is your God found on the pages of Scripture like those listed above? Your ability to trust Him with your daily situations increases in direct proportion to your view of Him. Your security, daily success and sense of being loved are tied up in your view of God. It's time to grow your view of your God. Start and/or continue to live each day with a Biblical worldview and you'll see your view of God grow beyond your imagination.
Se"T" Free Nowww