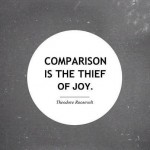 Yesterday I told you the story of a gentleman who always wanted to be race car driver. His sons gave him a chance to "race" a car as a birthday present after he had retired from his "real" job.
Here's another lesson we can learn from this story. After experiencing tremendous discomfort from being caged in, from the heat of the car, track and equipment he had to wear, from driving without music, and from hardly being able to move, let alone shift gears, he couldn't wait to get out of the car from which he never wanted to return! His entire life he idolized the men and women who got to race cars for a living and it only took one ride to show him he would have hated every minute of it.
Comparing yourself to someone else by envying the role God gave them will only end in disappointment and discouragement, both of which can lead to your drug(s) of choice. Discover who you are as a child of God. Be comfortable in the skin God gave you. Then make a difference right where He placed you by doing the "good works" that He prepared for you to do each day (Eph. 2:10). Keep your blinders on (see yesterday's entry) by focusing on the journey He has for you, not for someone else, by listening to and doing what Jesus says to do right now, right where you are (i.e. a Biblical worldview). Significance and satisfaction are coming your way, both of which lead to freedom!
Set "Free" Nowww