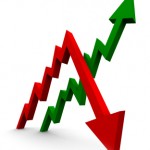 There's a scene in the movie, Love Comes Softly (yes I watch chick flicks with my wife…and love it!) where the lead character goes to "church." This movie's set in the American pioneer days. This meant that people tended to live further apart with fewer services, like going to a church, available to them.
In this particular scene the man sat a log overlooking a beautiful valley, sang a few hymns, read his Bible and talked with God. Throughout the movie, though, he was constantly seen in relationship with Jesus. Though he wanted and needed to be with other believers, his walk with Jesus wasn't dependent upon it. He had a healthy faith.
The Walk with other believers principle is true. We can't do church alone on some mountain top. We need other believers to help us become more like Jesus. Having said that, if you had to live as the main character, would you still have a healthy faith? Ask yourself, "Does my faith go up and down with what others do or don't do or is it dependent simply on loving and being with Jesus throughout my day?" Loving Jesus through a healthy faith does come softly, one choice at a time.
"S"et Free Nowww