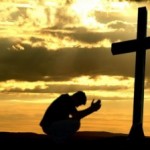 I've heard people say if they could simply know the future, they'd be great. I couldn't disagree more. In fact, I don't believe we can handle knowing the future. We'd stress out as not everything that happens to us is good! Because we live in a fallen world, life happens and sometimes it's not pretty.
But we can trust the one who knows the future and relax. The Word says that everything coming our way is Father filtered and is something we can successfully navigate through with the Spirit's power (1 Cor. 10:13). When David saw the giant Goliath standing in front of him he didn't know if he would win, but he believed he could because he knew his God (1 Sam. 17:37). He knew from the past that his God helped him defeat other "giants" and could do so again. This peace of mind allowed him to run, not shrink, into battle.
How well you know Jesus is crucial. What you know He can do from past experience, brings peace of mind, even though you don't know what will happen today, let alone the future. The mere fact that you have seen Jesus defeat your "giants" in the past will give you the confidence, the faith, to keep listening to Jesus while facing your giants of today. A healthy faith knows who their God is from the Word and from seeing that God come through in their experience. Run toward the battle, not away when the giants come! Jesus is there to give you victory.
S"E"t Free Nowww