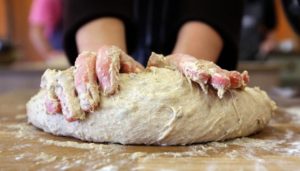 I was making banana bread. (Yes, I know my way around a kitchen!) I mixed all the ingredients, prepped the pan, put the ingredients into the pan and baked it for the prescribed time.
After letting it cool, I sliced it up ready to be enraptured, but gagged instead. The ends were done, but the middle looked like this picture – gooey! Even though my intentions were good, I ended up with half-baked banana bread that wasn't very tasty.
Jesus was asked, "What is the great or biggest commandment?" He answered, "Hear, O Israel: The Lord our God, the Lord is one. And you shall love the Lord your God with all your heart and with all your soul and with all your mind and with all your strength."
Loving Jesus halfheartedly is like eating half-baked banana bread, nasty. It doesn't satisfy and ends up being spit out. Jesus said that if you want a healthy faith, one that satisfies, it must be based in truth (He quoted Deuteronomy 6:4) and put into action with each choice.
Thoughts, which form the basis of our actions, are stored in our hearts and minds. We must take truth based thoughts and choose (soul) to put them into action with everything we've got (strength). Anything less is half-baked banana bread.