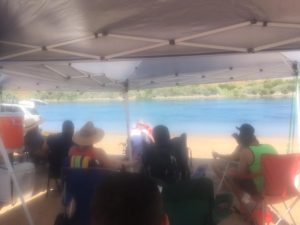 Hydration results in a healthy faith.
This is a picture of the men who recently went out into the desert to get hydrated by Jesus. It's blurred because of my sunscreen. We were at the Colorado River in the midst of 100+ degree temps! It's funny to think about being dehydrated with all this water around.
Yet, we had to tell the guys to keep drinking water throughout the day. Even if they were used to the heat they needed to keep drinking water. The downside of not drinking was the very real possibility of fainting, dizziness, and a rapid heartbeat.
Millions of gallons of water came from a rock, which isn't a natural source of water, in the desert to satisfy the thirst of an entire nation. Jesus, the Word of God, was and is that rock that satisfies a thirst. This hydration also keeps us going about our daily lives instead of having to stop due to the consequences of its absence.
Meditation is that continual hydration process. We take a truth revealed in our daily gulps in God's word. Then we keep sipping on it throughout our day. This continually intake of Jesus water keeps our faith healthy, which leads to God praising victory.
Drink up and keep enjoying His presence as you walk with Him all day long.