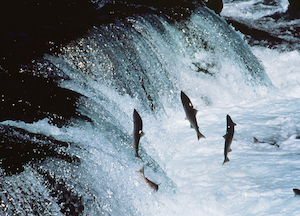 "A dead thing goes down stream, only a living thing goes against it."
I've fished for salmon in both Alaska and California. These fish are literally working their tails off to get upstream to their spawning grounds.
For some, like those pictured, this process is much harder than others. Some get eaten along the way by bears, eagles or humans. And yet, they must go through this arduous task to reproduce and keep the salmon life cycle going.
It's the same for those who truly love and follow Jesus. We live in a world that wants to feed our flesh and its desires, rather than kill them. Living out the truths Jesus gives us, then, will be like swimming upstream.
We'll need a tougher, stronger and deeper faith to live in a day when people, including some Christians, only want to float downstream in the river of "everyone has a right to believe what they want to believe," except those going upstream.
Swimming upstream will take dying to ourselves – our feelings, our rationalizations, our justifications, etc. – to let the Spirit replace us with Jesus. This kind of upstream living will mean making tough contrary faith choices (going against our way of thinking and feeling) throughout our day.
Don't be fooled. This is the reality for Jesus followers. BUT, be encouraged. Jesus went upstream and look what happened to Him. He's alive and seated on the throne next to the Father.
He won and so can you as you continue to follow Him upstream.