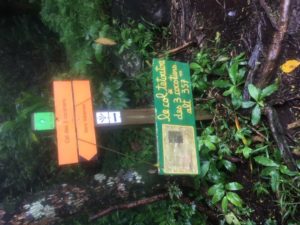 Jan and I love to take advantage of every chance we get to hike in different places and countries.
On the island of Moorea, there is a famous hiked called the 3 Coconuts Trail. It's 4 miles up and back with an elevation gain of a little over 1,100 feet. The guide books call it strenuous, but it's pretty normal for us.
Our anticipation was high. We were going to an exotic place to hike in a rain forest type of atmosphere where the scenic views from the top would be nothing but spectacular.
Rain was forecasted for the day we were to hike. Needless to say, we got drenched not once, but twice. Yet, since it was a warm rain and we were already sweating from the humity, the amount of rain was no problem. The coming view would be worth it all.
This heavy rains, though, caused the trails at times to turn into literal rivers! And, as the trail was laced with tree and plant roots, we ended up slipping and sliding along the way quite a few times. But, oh the view would be worth it.
Yet the view wasn't! This is what we found when we reached the top – a sign! No spectacular view, just a sign telling us that three coconut trees used to be here and now the forest had overgrown the area to the point that you couldn't even see the ocean.
What a great illustration of reaching and working hard to reach goals that have no lasting or eternal value. Paul said that he always pressed on toward the goal of becoming more like Jesus – a goal that will last forever while giving benefits now.
Where are you headed? Hope it's worth it in the end!