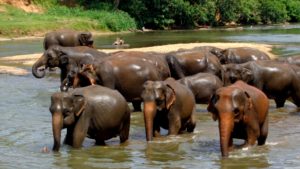 If God is for you, who in the world can be against you, right?
Elephants run in herds. And when dangerous situations arise, they put their most vulnerable (often their young) in the middle surrounded by the stronger elephants.
Abram had just returned from defeating the five kings that took his nephew, Lot, captive. The LORD came to Abram in a vision and said, "Fear not, I am your shield."
Abram went through what we call an adrenaline dump. His fight or flight response led him to fight a great battle, which he decisively won.
Yet after the fight was over, the natural let down had to come. He was vulnerable and possibly questioning himself, "What can of worms did I just open up?"
It's at this point that Scripture reveals how God showed up to encourage Abram. The LORD would protect Abram just as the herd would their more vulnerable members.
You are surrounded by a shield – God's presence. Throughout your day, know for a fact that you are not alone. Your Father is right there with you.
Know something else as well, without your Dad being present, your challenges could be even more challenging! And still, in the midst of those challenges, you have the power to love Jesus through your choices.
Live victoriously today because your God is not only for you, but He surrounds you too!