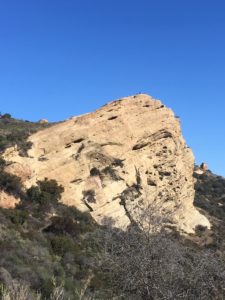 "They shall mount up with wings like eagles."
Pictured is Eagle's Point that my hiking Go Group (doing what I already do with those who need Jesus) recently came across.
If you look closely, you can see what appears to be tiny sticks protruding from its beak. They are not sticks, however.
From our perspective much lower on the trail, they looked like sticks. But from our perspective on the point, we clearly saw people relaxing before they continued their hike.
Perspective. Life at times can be all about perspective.
A former student wrote, "A lot of people I know are going through a huge rough patch in their life. All I can say is LOOK!! Look at how far you've come. I know you're not done. Pick up the pieces and paint the new picture. I know for a fact you've got more than one waiting for the new masterpiece."
Looking at life from our perspective, which often is in the midst of the hike, can get pretty discouraging. We feel inept because we fall. We feel worthless because we don't see the results we think we should. We get tired because it seems we've been walking forever.
It's the like, though, the old adage says, "You can't see the forest through the trees." Your perspective is only trees after endless trees.
From Jesus' perspective, it's a forest, the finished masterpiece, as well as the trees. Even the dead ones that need to be cut down.
As you keep climbing higher and higher, the more you will see what God has done in and through the life He gave you.
Keep climbing. You'll soon be encouraged by the forest you see.