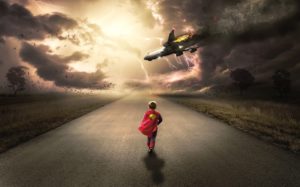 If you don't conquer it today, it will control you tomorrow.
Jesus and the twelve were walking toward Jerusalem. This journey caused great fear in His men. Why? They were heading straight into the center of a storm.
At that time, the Israeli government wanted Jesus dead; and, He knew it. Jesus could play it safe and stay home. Or, He could keep walking into Jerusalem. He chose the latter.
He told His men as they walked, "Hey guys, don't be afraid. This is the life I came to live! Yes, I am going into the midst of a thunderous storm. And, yes, I know I'm going to die in that storm. But guess what? That's a good thing as I'm going to rise to life again! I will fulfill the purpose I came to earth to accomplish."
Just like Jesus, you're an awesome piece of artwork created with a purpose that, in the Spirit's power, you're fully capable of accomplishing (Eph. 2:10).
Playing it safe will not get the job done. Listening to and following Him will – even if that means heading into a storm, like death.
Jesus follower, do you believe that when you leave this planet you're going to heaven to live with Him forever? If you do, live the life He gave you…today.
Stop listening to the superstar athletes or politicians who tell you to play it safe, stay home.
Keep listening to Jesus. If He says stay home, stay home. This is loving Him. If He says head into the storm, head into the storm. This is also loving Him. Either way, there must be someone who needs to see and hear Him through you wherever you might be.
People are afraid. These people need to see Jesus' love in the lives of those who follow Him, despite the storms. This is not a safe walk, but one of faith that will be rewarded with life today, tomorrow and eternity.