"You can't go back and change the beginning, but you can start where you are and change the ending." C.S. Lewis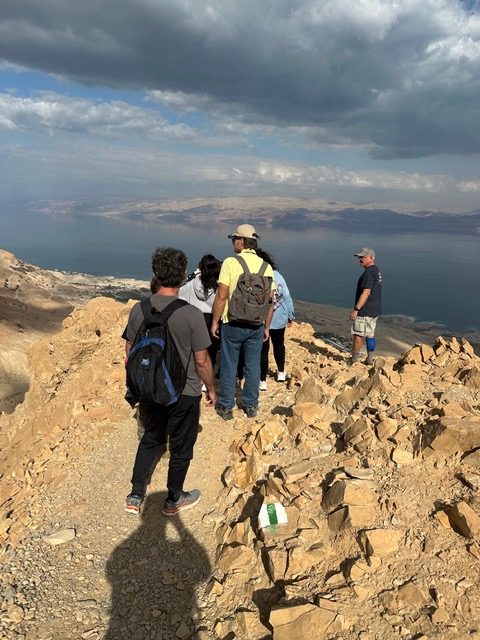 I was part of a group that was hiking a trail down to Ein Gedi. You can see the Dead Sea in the background of the picture, which is how far we had yet to go.
After a smooth beginning, the trail started getting quite a bit more difficult. This was a trail for experienced hikers with hiking shoes. The trail at times was covered with rock slides, had very narrow sections to pass, and had deep steps requiring hold holds to get down.
We kept praying. "Lord give us peace as we continue and for those who need strength, please supply it." We then had experienced hikers helping others as there was simply no way we could take them back up the "hill."
Yet, it was so awesome to watch this group of Jesus lovers working together. Some climbed up and down the trail many times while others were overcoming fears as they continued with the encouragement of others.
And though tired, what a sense of accomplishment we all had! God worked in and through us that day. How we ended up on the trail didn't matter once we were on it.
We get where we are by our or others' choices. We can't go back and change that. We can, however, choose to go forward in the power of God who more often than not supplies that power through other Jesus travelers.
You can't change the past. You can only change the future. Choose to take hold of the truths that God has covered your past through Jesus' death and that He gives you the power to go forward through the same power that rose Jesus from the grave.
Experience life today as you let Him transform your life while going forward in Him and with His people.