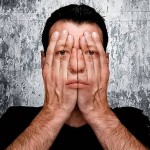 When my children were babies we'd play the game of hide and seek in plain sight. The game is played by putting your hands over your face and telling your child, "I can't see you. Where are you?" Then you pull your hands away and say, "There you are!" Of course, they were giggling and smiling the entire time. We'd both get a kick out of it.
This children's game isn't so funny when we become children of God. We put our hands over our face and think He can't see us. Yet Hebrews 4:13 states, "All things (which includes you) are open and laid bare to the eyes of Him with whom we have to do." He knows the drugs of choice (i.e. sin) we're taking and what they're doing to us, so why avoid Him? He hurts for us.
I believe one of the reasons Christians make excuses for not reading and listening to the Word of God is that they're afraid of what they might hear God say. Dear brothers and sisters, you can't pull the covers over God's eyes. He sees everything! If you want to taste victory, rather than defeat, you'll have to slow down and let Him expose whatever is causing you to take your drug choice, so you can be at rest in His presence.
You don't have to run from God. Even though He sees all the nooks and crannies of your soul and mind, He tells you, "I love and accept you. I'm glad you're my child." Get into Jesus, the Word of God, and let Him bring peace in your soul and a smile on your face.
Commit to following what the Word of God says in James 5:16. Get into a Bible Impact Group with at least one other believer. Open up about your challenge and deal with it using the FREEdom process. And let your fellow BIG partners pray for you. As you do this, the Bible says you will be healed. It's time to start running towards, rather than trying to hide from, God.