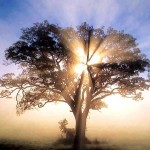 Here we are at the end of another wonderful, but oh too short weekend. Are you ready to begin another week? Is today, "Oh yeah it's Monday!" or "Oh bummer it's Monday!"? Hopefully, it's the former. As healthy believers who understand that we can live in Jesus' presence every day and experience His joy and love throughout that day, we should be ready to see our God show up in our lives. This is our hope as believers. We have a God who loves to walk with us.
Our God shows up in the most obvious and subtle ways possible. He loves you. As someone once said, "The goal is to discover God in the mundane, in a moment of boredom and turn these experiences around into an encounter with the holy." So, be ready for Him to encourage you through His Word at the exact moment you need it. Be prepared for Him to give you the strength to be victorious over your drug of choice. Keep your ears open to hear His voice tell you to pray for your BIG partner when you least expect it.
This is not only the day the Lord made, but the week as well. It starts today, Monday. Your God wants to make Himself known to you. Be ready to see it! As you get together with your BIG partners this week, how will you praise Him?