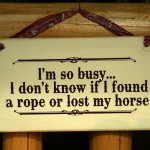 In my book, More Than a Sunday Faith, I show that a Christian worldview no longer works today because it's becoming based more on pop culture rather than on Scripture. Here's another lie-based message that has infiltrated the Church: "Being busy makes us feel like we're good people. We must be; after all, look at everything we're doing!" We're good people simply because we're busy doing something. This false mindset is seen in such statements as: "I have to go to church to be a good Christian that pleases God." "I have to serve as an usher at church for God to love me." "I have to stand on a street corner with a sign to get into heaven."
This just isn't true! Jesus made the ultimate sacrifice, which makes our sacrifices (i.e. busyness) for God seem nonexistence in comparison. No, we don't have to do anything for God to get what He's already given us in Jesus – love, acceptance, significance and a home in heaven. We simply have to be in and with Him to experience peace and joy.
Ephesians 2:10 states, "We are God's workmanship, created in Christ Jesus to do good works, which God prepared in advance for us to do." We are new creations in Christ and in Him we become somebody's who can do something with the lives God gave us. It starts with being in and with Jesus, not doing for Him. This is foundational to a Biblical worldview.
I live with Jesus; therefore, I can listen to Jesus. And because I can listen to Jesus, He can tell me what to do in any and every situation I face throughout my day. And when by faith I do what He says to do, I'm doing the good works He created me to do, which includes hanging out with His people and using the gifts He's given me in people's lives. Busyness is not a good thing. Being with Jesus is.
S"E"t Free Noww