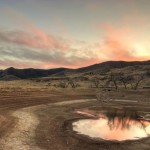 There's a huge pond on one of my walking routes. The winter rains fill this pond to the point where the water covers a ski boat and a huge mound of tractor tires. As winter turns into spring and summer, the pond slowly dries up to where all that is left is the boat and the tires. Let me tell you, it's not a pretty picture.
This describes the Sunday-morning-only Christian. This person comes to the Sunday service hoping to be filled through great music and an awesome message. By the time Sunday afternoon rolls around or Monday morning at the latest they're already running dry. The peace and joy they felt on Sunday morning is going, going, gone.
An everyday faith requires drinking from the Word of God throughout your week, not just on Sunday. But, you're not reading the Bible to check it off your to-do list, which is religion, to do a Bible study, or to understand everything you read. You're reading to hear from Jesus in order to recognize His voice throughout the week during your everyday activities, which is a relationship.
If you're experiencing Jesus only on Sunday, you'll dry up like the pond and refresh no one, let alone yourself. Taking a drink throughout your week allows the Spirit to refill your pond every day where everyone can be refreshed, including yourself.
S"E"t Free Nowww