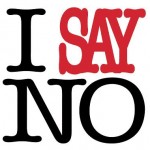 What would happen if you didn't trust Jesus when He says, "No," to your request for victory right now? You'd probably never learn to stop returning to your vomit (see 9-10-12 blog). The Apostle Paul would have never learned to be strong despite being weak (2 Cor. 12:8-9). I'd still be one angry individual and wouldn't have learned God's process of changing a life, making healthy disciples, through living with a Biblical worldview. And friends of mine would have never chosen to stop drinking and various other drugs of choice.
We live in an instant society. We want everything right now without having to work for it; yet this mindset smacks up against the reality of a Biblical worldview. Believers are told in Philippians 2:12 "to work out our salvation with fear and trembling." What is that work? A daily process of listening to and doing what Jesus says to do in every situation by faith. Trusting is hard work as it requires us to do what Jesus says to do even when it goes against the way we currently think, live and/or feel.
Victory is a daily choice to live with a Biblical worldview. Thank God He has the guts to tell us, "No" out of His great love for us.
Set Free No"W"ww