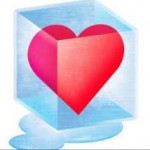 In the book, Blue Like Jazz, the author makes a very profound statement. "Our behavior will not be changed long with self discipline (i.e. focusing on your behavior – my note), but fall in love and a human will accomplish what was never thought possible. By accepting God's love for us, we fall in love with Him, and only then do we have the fuel we need to obey."
Love is a very powerful motivator for life-change. Jesus calls us friends. This relationship can be nothing short of awesome and fulfilling if we choose to hang out and talk with Him wherever we go (i.e. living with a Biblical worldview). As our love grows for Him, the more we'll want to be closer to Him and allow Him to remove what hinders or hurts this relationship (Heb. 12:1).
God demonstrated that you're lovable when through the cross He said, "I love you!" Since you are lovable, let your Friend teach you to how to love Him. This love can melt the ice and give you the motivation and power to allow Him to change your life for the better.
"S"et Free Nowww