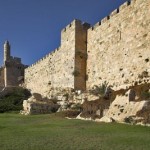 Look at the picture to the left. What do you see? Hopefully what catches your eye is the huge rock in the lower right hand corner. This city wall was built upon a rock! There is no way an enemy could dig under this section of the wall, especially in the days when they didn't have TNT.
This is a picture of what David is talking about in 2 Samuel 22:2-3. David's security wasn't found in his position as king, his military skills and abilities (which brought him tremendous fame), his looks, his money, or in anything else that could be taken away from him.
No, David's security, peace of mind and strength came from his close relationship with his God. When life struck and it does to all of us, David stood upon the Rock. His mind went to Who his God is and how his God could help him face any and every situation that life threw at him. Keep in mind that there were people who wanted David's head! Yet David kept his by standing upon the Rock, heading into the truths of God's fortress for protection.
We have the same security as children of God. Because of what Jesus, not what we do or don't do, we have a rock solid foundation (1 Cor. 3:10-11) that can't be undermined or exploded. Where will your mind go when the car breaks down or the bills pile up? You can be secure beyond secure when you stay focused on Jesus and keep listening to Him.
"S"et Free Nowww