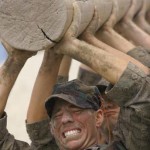 I was reading a book about the US Navy Seals when I ran across one of the many sayings they use to motivate each other. Keeping in mind that we are to process all sources of information, I became intrigued with this statement: the only easy day was yesterday. I had to admit it had me stumped. I went to their website to discover its meaning.
This phrase talks about what the weeks of grueling training teaches each potential Seal. It's not only physical and mental strength, but it's also about having the heart to continue on with the determination to do whatever they're doing to the best of their ability. It's the ability to dig deep and keep going despite how much they hurt physically or want to quit mentally.
The idea is that you keep pressing on toward the goal. Yesterday was easy compared to the changes needed to be made today. This is one of things Philippians 3:13-14 talks about. We forget yesterday with its victories and defeats and keep pressing forward to be like Jesus in the situations we face today. We can't let yesterday hinder us in choosing to listen to and do what Jesus says to do today (i.e. a Biblical worldview).
This is further exemplified by the principle Exercise the truth. When it comes to life change, we won't always feel like doing what Jesus says to do. We will not always think what He's told us to do will work; but we take that step of faith anyway. As we do, we will become more like Jesus and with it, experience the joy and peace He has for each day, not just yesterday.
Set Fre"E" Nowww