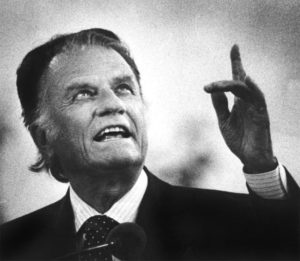 Monuments to Man or Life to His Glory?
The Chaplain to the White House, America's Pastor, Confidant of World Leaders, the Christian Evangelist, God's Machine Gun (for his rapid fire sermons), Gallup's List of Most Admired People, are just some of the epithets said about Billy Graham, who died today at the age of 99.
Yet it was one statement he made after the dedication of his library in 2007 that caught my eye the most. Mr. Graham felt the 40,000 square foot building glorified him beyond his desire.
"My whole life has been to please the Lord and honor Jesus," he said, "not see me and think of me." His life was driven by one verse, Mark 16:15, "Go into all the world and preach the good news to all creation." And that is exactly what he did in 185 countries.
Mr. Graham wanted his life to be a monument where people would see Jesus in him, not the other way around. What about you? Hopefully the Lord challenged you with this as He has me. More of you Jesus in and through me!