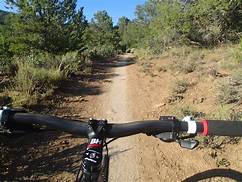 Don't look back, you'll miss the road ahead.
I was taught a golden rule from the very beginning of my mountain biking experience: where your eyes go, so goes your front wheel. The bike will go where you're looking – either into the ditch you want to avoid or the trail you want to take.
So keep your eyes on the trail if you want to enjoy the ride!
In one area of my life, the Lord has been making huge progress in changing me. Yet, I found myself saying, "I can't go back!" I knew where I had come from and didn't want to go back there.
I was enjoying the ride of Spirit empowered life-change. Yet where were my eyes? Looking back!
I needed to make an attitude adjustment. Instead of focusing on where I'd been, I should've been focusing on where Jesus was taking me – toward Himself.
Excuses. We make them. But guess where excuses focus us? Backward to where we've been, not to where we want to go.
Learn to exchange those backward excuses with forward looking praises. Focus on wherever Jesus is leading you by focusing on the truth about Him that will get you there. Then praise Him for it even if you land in the ditch!
Praises keep you focused on where you want to be – more like Jesus, all of Who you want to be and all of what you want out of life.