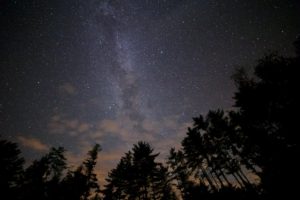 Look up and see how much He loves you!
On a recent trip to Mammoth Lakes, CA, my wife and I took advantage of God's pure source of entertainment – the heavens.
We got comfy under warm blankets while getting almost horizontal in our lounge chairs. Drank hot coffee as a cool breeze kissed the tree tops as well as our faces. Listened to Spirit-filled instrumental music as a nearby creek rushed down stream.
We even held hands as we watched stars falling (okay, okay, burning space debris), planets "shinning" and satellites making their way through the night sky.
It was during this very entertaining movie that my wife made a thought provoking statement, "God knows each one of those stars by name."
This scriptural truth (Ps. 147:4) hung in the air. Our Father had actually given names to each and every one of those stars.
Biblically, names denote knowledge of the subject or person by someone else. Thus, our Father had intimate knowledge of each and every burning ball of gas when He named them!
If He cares enough to name inanimate objects, guess how much He cares about you, His child? He didn't send Jesus to die for the stars. He did, however, do so for you.
And if He loved you that much, do you think He'll ever leave you alone? Nope.
You are not and will never be alone! Ever. Allow that to sink in. He knows more about you than you do – yesterday, today and tomorrow; and yet, He will always walk step for step with you.
So, the next time you start feeling alone. Look up. Smile for the camera. Your Father loves you and He's not going anywhere!