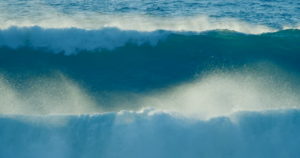 Who is more important than what.
A good friend of mine recently sent a video of a 20 year-old French woman, who recently rode the largest wave ever ridden by a woman – 70 feet! My friend said it would scare her beyond belief to do it.
I texted back, "I bet that surfer would be scared of the places you've gone!" You see, my friend is a nurse, who has gone to dangerous places to bring medical care. She heard Jesus say, "Do you trust Me?"
On the latest phase of my Jesus journey, I've heard Him repeatedly say, "Do you trust Me?" My first reaction was, "Obviously Lord I don't or you wouldn't be asking me that question!"
When Jesus told Peter to get out of the boat on that stormy night, He was saying, "Do you trust Me?"
My friend, Peter, and myself were at different places in our Jesus walks. What might have scared one, wouldn't bother the other. The what is not important. The who you are trusting is.
Are you playing it safe today or hearing Jesus say, "Do you trust Me?" Are you content with where you are at or hearing Jesus say, "It's time to ride another wave?"
My friend and I have learned so much about ourselves and our God because we've trusted Jesus and gone where He said to go. Easy? Not a chance. Worth it? Words can't describe it.
I challenge you to take your God-given skills to places others won't or can't, but Jesus is asking you to go. And guess who will be standing right next to you?
You know Who.