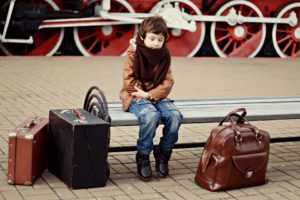 "Our wise Father in heaven knows when we're going to need things. Don't run out ahead of Him." Corrie Ten Boom
Corrie tells the story about a time when she and her father were traveling by train. Seated next to him, she asked him what sex sin was. He said nothing.
As they prepared to exit, he asked Corrie to carry his suitcase. She tried as best she could, but it was far too heavy.
He told her that he would be a "pretty poor father to ask his little girl to carry such a load. Some knowledge is too heavy for children. When you are older and stronger, you can bear it. For now, you must trust me to carry it for you."
Our Father is on the throne; and, we're seated in Jesus' lap at His right hand (Heb. 12:2; Eph. 2:6). We are there because we're His children through faith in Jesus.
Our Father is completely able to handle the heavy knowledge that we can't bear at the moment, like, when Covid19 restrictions will be lifted and life will return to "normal".
Don't focus on what you don't know. It's too heavy for you and will crush your peace of mind.
Instead, focus on what your Father is asking you to carry right now, and forget the rest. He knows tomorrow. You don't. Let Him carry it.
Stay focus on and act upon the truths the Spirit gives you today from Jesus. And His peace will reign in your heart.