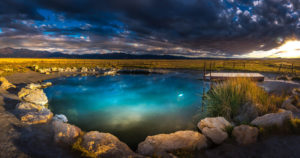 "Do you want to be where I am?" – Jesus
During his struggle to find his calling between pursuing a career in art or one in ministry, Oswald Chambers heard God say, "I want you in My service, but I can do without you."
Pretty blunt, right? In all reality, God can get what He wants done without our abilities and talents or lack of them either.
What we do or don't do neither adds to nor detracts from who He is. He is God. He is self-sufficient. He is awesomely almighty just as He is.
We on the other hand, are not. We need an outside source to make us whole (i.e. saved). And, Jesus is the only outside source that can do this.
So ask yourself, "Do I want to be where Jesus is?"
It means leaving behind your great ideas about what you can do or your insecurities about what you can't do for God in order to get a front row seat to watch who God is and what only He can do.
It is the story of the boiling hot bath. No one wants to be the first person to jump in, but as the first person jumps in the heat begins to dissipate.
Jesus already jumped into the hot water of the cross to be with His Father. He jumped into death to experience the Almighty's power to bring Him back to life.
So now, though the water is still hot, He is asking us to be with Him in order to know and to experience how awesomely almighty He is.
From the center of this hot springs, Jesus is saying to you, "I am here. Jump in, the water is…fine!"
It's time to jump.