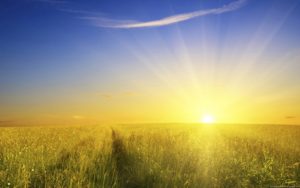 God doesn't say, "Be spiritual;" but, "Walk with Me."
This past weekend, the Spirit shone brightly into my life – through a friend who was afraid to say something and a speaker who I had no previous plans to hear.
Yet, the Lord brought together a timely combination of events that gave me a life-changing insight into a certain struggle of mine.
Why did He wait until now for this breakthrough? I don't know. But it sure gave me a greater insight into Galatians 6:9, "Let us not become weary in doing good, for at the proper time we will reap a harvest if we do not give up."
Each day is a new day with new choices. But, in certain areas of our lives, the same old fight is waged. This can cause such tremendous discouragement that we want to quit fighting.
Paul encourages us, though, to keep making contrary faith choices empowered by the Spirit. Eventually if we keep fighting the flesh/the old programming, we'll harvest Christlike character.
As we are already in Christ, in reality all God wants from us is to keep walking with Him, even though it seems like we're fighting the same old battle with each new day.
Be encouraged. Trust in the promise of this Scripture – in God's timing, whether here on earth or when we see Jesus, victory indeed comes!