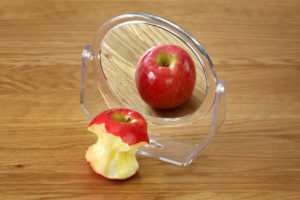 When Scripture seems contradictory, blow up your boxes!
I often find that the Spirit has to blow up my tiny boxes so He can expand my view of Jesus. This is especially true when it comes to how I view myself when I look into the mirror.
Hebrew 10:14 states that through one sacrifice, Jesus', we're both perfect right now and being made perfect at the same time. I realize this seems contradictory; only, however, if you see if from your point of view.
God knows, at times, we will fail this side of heaven. This doesn't mean that He wants us to fail. He knows sinning only hurts us and those around us. It's just that it doesn't surprise Him.
God sees the entire picture from beginning to end. We're already holy/perfect because of what Jesus has already done. Our Father sees this picture while we only see the process of becoming perfect, which entails failure.
Our viewpoint leads to making wrong conclusions about who Jesus is and what He has done and to saying some very degrading statements about ourselves, which only leads to more failure.
It is because of the one sacrifice – Jesus' – that we have access to a forgiveness that covers those failures. Be ever thankful for that one sacrifice. And then, give thanks for how God sees you the next time you look in the mirror. It will blow up your boxes about who Jesus is!