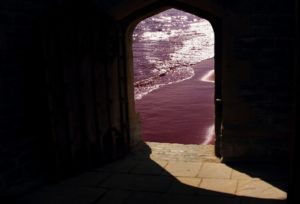 "When you enter His presence with praise, He enters your circumstances with power." Unknown
Something hit me while I was reading through Exodus. There was an entrance to the Tabernacle.
Yes, I know this is obvious. Let's make sure we don't read over the obvious. The NIV uses the word entrance while the KJV says a door. A door can imply there is something that can be shut to block the opening.
Both translations, though, are based on the a word that means to be wide open. This is important because it tells us something about the the One who lived inside the Tabernacle. He provided access to Him as He wants us to be inside with Him!
At that time, the person who sinned was to bring their burnt offering before this entrance. Blood gave the ability to come inside. This is an awesome picture of what Jesus did for us.
Through His blood, our sins are forgiven so we can have unlimited access to the Father.
The Father wants you to be in His presence 24/7 every day of the year! How often did you stay out of His presence in 2020?
Make the commitment in 2021 to use the access you have to the Father. He wants you to be with Him!