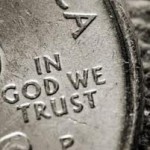 I recently read that "being a Christian is about choosing Jesus and deciding to do something incredibly daring with your life." This statement, however, is completely based in your ability to trust Him.
For those who see God change their lives, they first had to come to grips with the fact they couldn't change their own lives; and second, were willing to trust that Jesus could. Have you come to this realization yet?
Once they realized this, they then had to enlarge their view of who Jesus is and what He could do for them. This meant spending time in the Word listening to Jesus, and then each day practicing what they learned in the situations they encountered. As they did, they saw God do incredible things in and through their lives. Are you at this point yet?
The reason, however, so few Christians have and are is that most Christians leave God behind when they exit the doors of their church each Sunday. I lovingly refer to them as Christian atheists. They live every day but Sunday as if God doesn't exist. Oh, if they only were willing to let go of the reigns of their lives.
Hopefully, as you look back over your week, that doesn't describe your life. Instead, you kept a running conversation going with and drawn closer to Jesus. As you continue to keep talking, your ability to trust Jesus will increase, which means you'll be able to decide to be a little more daring with each passing day. Keep those conversations going because your God does indeed exist. In fact, He's living inside you!
S"E"t Free Nowww