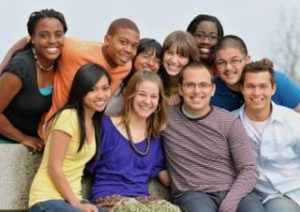 If you spend your time being judgmental of others, you have little time to love them.
The NIV translates Psalms 33:5 as, "The earth is full of His unfailing love." The word translated love, can also be "goodness" and "kindness". Can you imagine life on this planet without God being around to do this?
Read no further than the book of Judges. It describes a period of Israeli history when the people removed God from their national identity and replaced Him with themselves (Jud. 17:6). The story ends in chaos.
The US started this process in the '60's, whereas, the rest of Western Civilization started much earlier.
Whenever there is no "higher power" to whom all of humanity – no matter economic status, race or gender – is accountable, humanity itself becomes the higher power. No clear standard of right and wrong will ensue and chaos eventually follows.
This is why God instructed people to love their neighbors. When you don't have neighbors (e.g. live on a deserted island by yourself), who cares what you do?
When you decide to live in a neighborhood, however, there must be agreed upon standards of behavior ("common sense") on how to get along with your neighbors.
Does it ring a bell about the current situation in America? Maybe, but, I'm talking about the current situation in the American Church!
Only 17% of those who claim to love and follow Jesus, filter their life's decisions through the Word of God. In other words, 83% have made themselves out to be god.
Kind of sounds like the church Jesus talked about in Laodicea where He was not invited to their meeting, doesn't it (Rev. 3:20)?
Love, goodness, kindness must start with you and me, brothers and sisters (Gal. 5:22).
If you are part 17%, please keep living and talking about Jesus. Our neighborhoods need lots of love, goodness and kindness flowing into them at the moment.
If you are not, maybe it's time to make Jesus Lord of your life, not just Savior. Your neighbors sure hope you do.